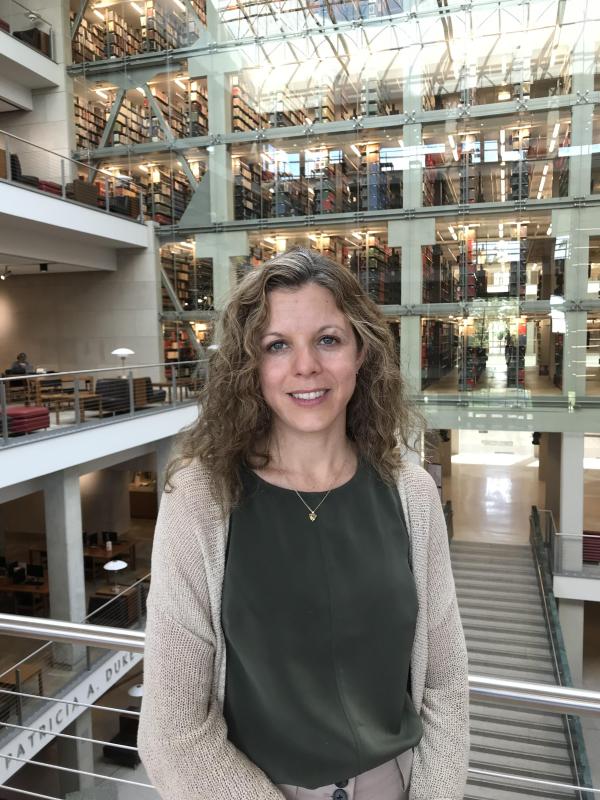 Johanna Sellman
Assistant Professor
she/her
325 Hagerty Hall
1775 College Rd
Columbus, OH
43210
Areas of Expertise
Contemporary Arabic literature
Migration and Diaspora
Translation Studies
Diasporic Theatre
Gender in Literature
Johanna Sellman is a scholar of modern Arabic literature. She received an MA in Middle Eastern Studies and a PhD in Comparative Literature from The University of Texas at Austin. Her research interests include contemporary Arabic and francophone literature, migration literature, translation, gender studies, and Arab diasporic theatre.
Johanna Sellman's forthcoming book Arabic Exile Literature in Europe: Defamiliarizing Forced Migration (Edinburgh University Press, 2022), explores contemporary Arabic literary narratives of migration to Europe that re-imagine citizenship through the encounter with borders. It traces the emergence of a post-1990s Arabic literature of migration written from the perspective of refugees, asylum seekers, undocumented migrants and others who find themselves outside of normatively defined citizenship. In doing so, the book draws attention to a sustained yet multifaceted engagement with questions of borders, borderlands, and citizenship in contemporary Arabic literature. The book also puts the focus on shifting modes of writing migration in Arabic literature, especially the emergence of speculative genres and approaches that decenter understandings of borders, mobility, and more. She is currently working on a new project that involves the translation of critical theory in Arabic into English. 
In NESA, Johanna Sellman teaches courses in Arabic literature, comparative literature, literature and gender, contemporary Arab cultures, and translation studies. Her teaching draws on intercultural and critical pedagogy to create classroom spaces that are inclusive and vibrant.
Selected publications: 
Arabic Exile Literature in Europe: Defamiliarizing Forced Migration (Edinburgh: Edinburgh University Press, 2022).
"Skrattets sten av Hoda Barakat," Beröring av Adania Shibli," "Utvandringens tid av Tayeb Salih. Karavan: Litterär Tidskrift Mellan Kulturer, No. 4 2019, pp. 54, 61-62, 96-98.
"A Global Postcolonial: Contemporary Arabic Literature of Migration to Europe" Journal of Postcolonial Writing. Vol 54, no 6, 2019, pp. 751-765. 
 "An Icy Heaven: Arab Migration on Nordic Stages" Theatre Research International Volume 43, no 1, 2018, pp. 45-62. (co-written with Margaret Litvin)
"Hassan Blasim". The Literary Encyclopedia. First published 16 January 2018
[https://www.litencyc.com/php/speople.php?rec=true&UID=13982, accessed 16 March 2018]
"The Ghosts of Exilic Belongings: Maḥmūd al-Bayyātī's Raqṣ ʿalā al-māʾ: aḥlām waʿrah and Post-Soviet Themes in Arabic Exile Literature. Journal of Arabic Literature. Vol 47, no. 1-2, 2016, pp. 111-137.
2016 "Learning Arabic through Literature: Resources, Approaches, and Opportunities"  Al- cArabiyya: Journal of The American Association of Teachers of Arabic. Vol. 49, 2016 pp. 133-138.
"The Forests of Exile." Portal 9 Stories and Critical Writing about the City. Fall 2014, pp. 37-51
People Filters: